CHAIN SLINGS
Alloy Chain Sling are usually the best choice when working under rugged and hot weather conditions such as construction sites. They are durable, long lasting and easy to inspect. The main advantage with chain slings is that they can easily be reparied if any damaged component or link is found during inspection. We manufacture chain slings conforming to BS EN 818-4.
The distance between the crane hook and the load is known as the "Head Room". If a specific head room is required, the "Reach" of the chain sling must increase as the angle between the legs increases as shown below.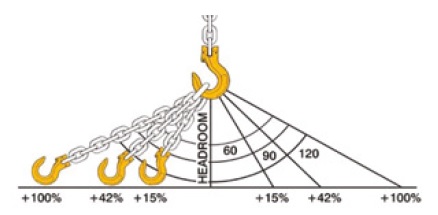 The reach of a chain sling is the distance between bearing points of the upper and lower terminal fittings. This distance, commonly known as the "Bearing to Bearing" should be quoted when ordering slings. Shortening clutches may be fitted to a sling, making the reach adjustable, hence increasing the versatility of the sling.